The Great State of
New Hampshire
The White Mountains National Forest is 750,852 acres (1,225 sq mi)
of astounding outdoor beauty.
To learn more about the White Mountains visit the Mt Washington Valley Chamber of Commerce. The website is a wealth of information on places to visit and things to do in the White Mountains area.
Mountains . . . Lakes . . . Seacoast . . .
The White Mountains
The White Mountains are a mountain range covering about a quarter of the state of New Hampshire and a small portion of western Maine.
They are part of the northern Appalachian Mountains and the most rugged and scenic mountains in New England.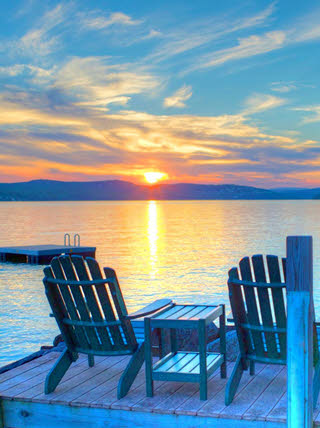 Lakes
New Hampshire, south of the White Mountains is known as the Lakes Region
Lake Winnipesaukee is the largest lake in the state and is the center of the Lakes Region. This wonderful lake is approximately 21 miles long and from 1 to 9 miles wide, covering 69 square miles.
The Seacoast
New Hampshire has the shortest ocean coastline of any state in the United States, approximately 18 miles (29 km) long. However, the seacoast area is a popular local summer destination.
Though a short coastline, its beaches are undeniably top-rate—not to mention diverse. Plus, there is fine dining, many historic sites, and a wide assortment of places to stay for a night, weekend or longer.
Classic seafood such as New England clam chowder and lobster.
New Hampshire is subdivided into 10 counties, 221 towns, and 13 cities.
Manchester is the most populated city in New Hampshire, with a population of 109,565. Concord, the state capital, has a population of 42,695, ranking as New Hampshire's third-largest city. Portsmouth is New Hampshire coastal city. The geographic location, historic past and cultural strength of Portsmouth regularly lands it on various
"best places to live" lists.
Portsmouth
Portsmouth, N.H., a city of roughly 21,000 people, sits near the mouth of the Piscataqua River, a short, wide river that divides New Hampshire and Maine. The city also is at the hub of a metropolitan region that includes the cities of Rochester and Dover, N.H. Portsmouth also claims to be the nation's third-oldest city.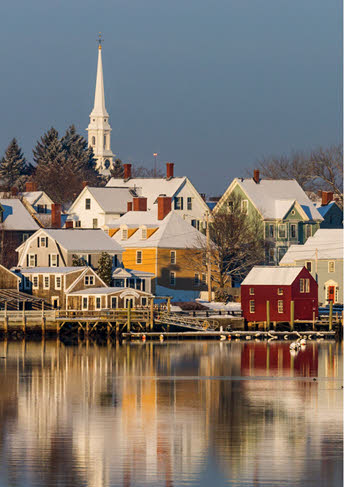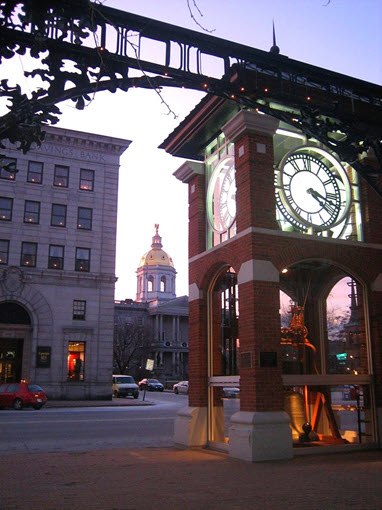 Concord
This state capital is becoming the cultural center of the Granite State. At almost 300 years old, the city of Concord has a wealth of historic properties that can be visited today as museums. In Concord, there is a host of new eateries, cultural venues, and shops. it is a small city with some big city offerings.
Manchester
Manchester has transitioned from an era of textiles to one of technology and higher education. Manchester boasts a wide array of amenities focused on recreational pastimes. The local government as well as business in the area have contributed to an ever growing list of enjoyable activities to cover a wide variety of interests.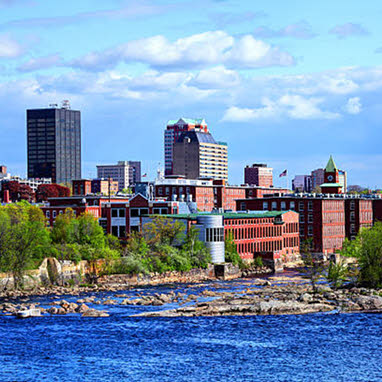 Cannon Mountain
Vertical: 2180 ft Trails: 72 Lifts: 10 Acres: 282
Loon Mountain
Vertical: 2100 ft Trails: 61 Lifts: 12 Acres: 370
Wildcat
Vertical: 2112 ft Trails: 50 Lifts: 5 Acres: 225
Bretton Woods
Vertical: 1500 ft Trails: 97 Lifts: 10 Acres: 464
Attitash
Vertical: 1750 ft Trails: 67 Lifts: 11 Acres: 310
Cranmore
Vertical: 1200 ft Trails: 57 Lifts: 9 Acres: 170
Black Mountain
Vertical: 1100 ft Trails: 45 Lifts: 4 Acres: 143
Waterville Valley
Vertical: 2020 ft Trails: 52 Lifts: 11 Acres: 220
Tuckerman Ravine
A ravine on Mt Washington (no lifts)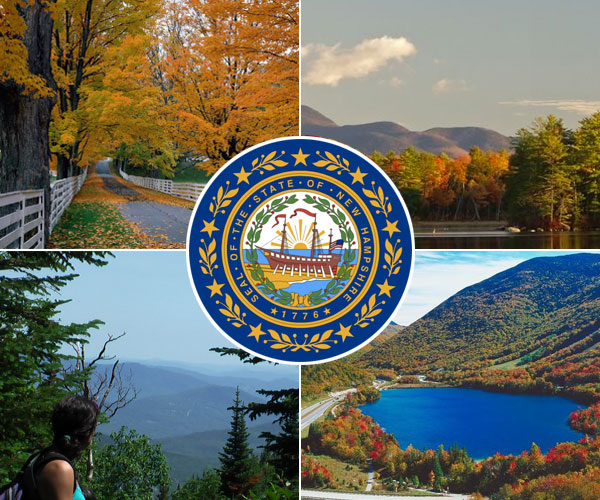 The top three reasons for a visit to New Hampshire are:
1. There is no sales tax!
2. There is nature everywhere!
3. There are great activities to do throughout the year!