Concord New Hampshire is located on the Merrimack River. It is the third-largest city in New Hampshire.
Since 1808, it has been the state capital. … In the 19th century. The city was well known for carriage making, and the 'Concord Coaches' became world-famous. 
Today, Concord is becoming the cultural center of the Granite State. There has been a $14 million dollar redo of its historic Main Street and the city seems to have hit the destination trifecta – a host of new eateries, cultural venues, and shops.
Downtown also boasts a boutique movie theater, 2 performing arts centers (1 more coming soon!), a music school, art school, and a public theater.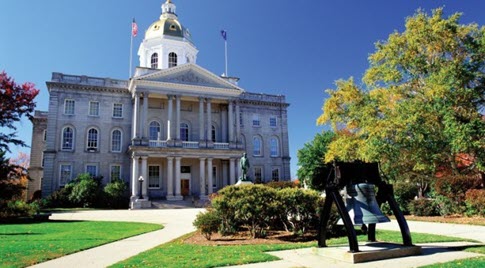 Concord Shopping
Concord is a destination for shoppers from all over the region. Concord Heights offers a variety of shopping, entertainment and dining opportunities that compliment Main Street and provide consumers with dozens of easily accessible choices along Loudon Road. The Steeplegate Mall offers popular options like Bath & Body Works, Sears, Talbots, JCPenney featuring Sephora and Yankee Candle, as well as fun options like Altitude Trampoline Park.
While you're there, treat yourself to something special at Hatbox Theatre! Nearby restaurants include the 99 Restaurant & Pub, and Newick's Concord Lobster House.
Concord's revitalized downtown has its own distinct appeal. If your ideal day of shopping is walking around a city brimming with historic buildings, public art and statues, and exploring a variety of specialty shops, bakeries, cafés, restaurants, unique alleys, squares and side streets, you will not be disappointed.
Local shopkeepers carry everything from handmade clocks, gourmet foods, books, music, clothing, furniture, jewelry, lingerie, swimwear, formal wear, shoes and specialty footwear, designer glasses, antiques, crafts, flowers, and cookware.
Popular shops include:
Fifty Home
Gondwana & Divine Clothing Company
Viking House
Capitol Craftsman
Granite State Candy Shoppe
Concord Antiques Gallery
The League of NH Craftsmen Retail Store
Joe King's Shoe Shop
Lilise Designer Resale
Endicott Furniture Company
Goldsmiths Gallery
Things Are Cooking
Zoe & Co. Professional Bra Fitters
Runner's Alley
A Day to Remember Bridal Boutique
The expanded Gibson's Bookstore
True Brew Café